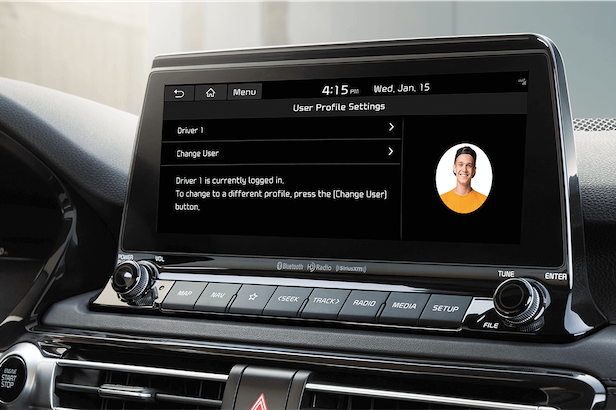 Kia UVO Link is Kia's in-vehicle media controller and infotainment system that connects to your smartphone to provide lots of useful tools and information. Based on Microsoft's UVO service, short for Your Voice, Kia UVO Link is a voice-controlled system that is integrated into your new Kia's eight-inch touchscreen display. It also pairs seamlessly with your Android or iPhone smartphone with an easily-downloadable app! Allow our Springfield Kia dealership to tell you more about what Kia UVO Link can do for you.
Kia UVO Link eService Features
Let's take a look at what Kia UVO Link has to offer to enhance your daily drive:
Android Auto™. This feature for Android-based phones allows you to take advantage of all the popular apps under the Android Auto platform, including making voice or video calls, listening to and sending text messages via voice, getting turn-by-turn directions, and more-all without taking your hands from the steering wheel.
Navigation. Using UVO's voice command function you can open the navigation feature, request directions to your destination, and even have your Google Maps and Google Places display POIs (points of interest) on the screen. After your trip, you can relive the journey using Trip Info to review your route, and the stops you made along the way.
Maintenance and Diagnostics. Kia UVO Link can also notify you of scheduled maintenance, like an oil change or recommended service. In addition, Vehicle Diagnostics and Vehicle Health Reports can help you to make sure your Kia is operating in top condition. Critical Diagnostic Alerts will notify you of an urgent problem so that you can take immediate action.
Assist Services. In the event your Kia vehicle has mechanical issues that prevent operation, UVO will connect you with a Roadside Assistance operator to assist you. It will also send data about the problem using the onboard diagnostic service, along with your vehicle's location and VIN. In the event of a collision, 911 Connect can even summon emergency services.
Security. With features like Find My Car, you'll always know where your Kia is located even if you aren't driving it.
Enjoy Kia Convenience with Kia UVO Link on the Streets of Springfield
Kia UVO Link is the perfect copilot to bring along on your next great adventure. If you have any questions about Kia UVO Link or would like more information, please don't hesitate to contact us at our Springfield Kia dealership today.