We are excited to introduce the newest sports sedan in the Springfield, MO market: the 2018 Kia Stinger. The Stinger is more affordable than most sports cars, but just as luxurious, and in many cases more fun to drive. To see how the 2018 Kia Stinger compares to a more traditional sports car like the BMW 5-Series, our experts have compiled this head-to-head review. If you'd like to speak to one of our experts about this thrilling new sports sedan, call (866) 825-9532.
2018 Kia Stinger vs. BMW 5-Series: Performance
Although new to the luxury sport sedan segment, the 2018 Kia Stinger knows what it's doing. In fact, the 2018 Stinger GT2 blows the BMW 5-Series out of the water. Not only is the Kia Stinger more powerful than the BMW 5-Series with either of its two engine options, it is also quicker. BMW clocks the BMW 540i's 0-60 MPH acceleration at 4.9 seconds. In Car and Driver testing, the new Kia Stinger GT2 went from 0-60 MPH in just 4.4 seconds!
2018 Kia Stinger vs. BMW 5-Series: Interior
The new 2018 Kia Stinger is available in five different trim packages. There are seven models in the BMW 5-Series lineup. For the purposes of comparing cabin features, we will only look at the two models closest together in price: The 2018 Kia Stinger GT2 starting at $49,200 MSRP, and the 2019 BMW 530i starting at $53,400 MSRP. But what's true of the Kia Stinger regardless of the trim package is that it's more comfortable and convenient than the BMW 5-Series, thanks to design aspects like more legroom and cargo space.
The Kia Stinger GT2 comes with quilted Nappa leather seats, while the BMW 530i comes with synthetic leather seats.
The Kia Stinger GT2 comes with heated and ventilated front seats. The BMW 530i doesn't.
While both models come with a 16-way power-adjustable driver's seat, the Kia Stinger GT2 driver seat includes thigh extension.
Both models have dual-zone climate control.
Both models have ambient lighting.
Only the Kia Stinger GT2 comes with under-floor storage.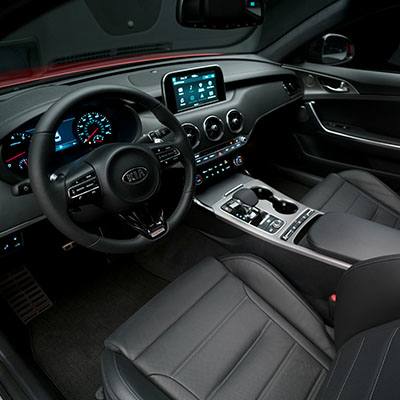 2018 Kia Stinger vs. BMW 5-Series: Technology
The Kia Stinger and BMW 5-Series are available with many of the same entertainment features. However, while the new Kia Stinger GT2 includes most of the features you want, most features on the new BMW 5-Series can only be added with the addition of pricey add-on packages, making it expensive to get every feature you want.
Standard features on the 2018 Kia Stinger GT2 include:
Forward collision warning and prevention
Lane departure warning and prevention
Blind spot and rear cross-traffic collision warning
Rearview camera and front and rear parking sensors
Advanced cruise control
Head-Up Display
Infotainment system with Android Auto™/Apple CarPlay™ interface
Built-in Navigation
Harman/Kardon® QuantumLogic™ premium surround sound with Clari-Fi™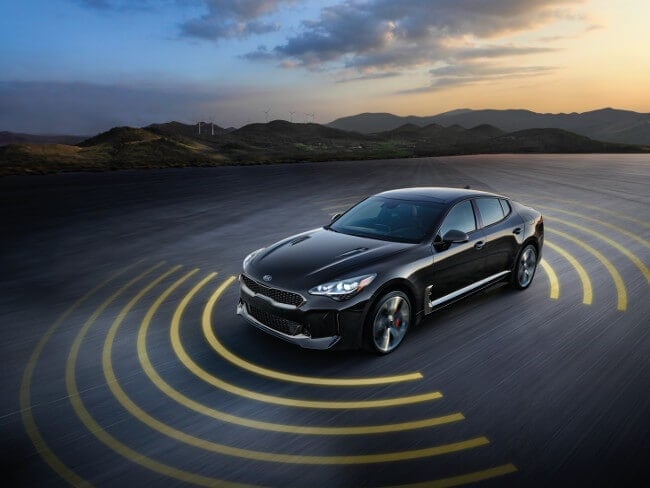 Test Drive a New Sports Car in Springfield, MO
Are you impressed with the extensive selection of advanced technology, premium comfort, and performance-tuned equipment on the new 2018 Kia Stinger? Before buying another sports car like any other, come take a test drive in the exciting new 2018 Kia Stinger, available now at our Kia dealership in Springfield, MO. Have questions about the Stinger? Don't hesitate to call (866) 825-9532 to speak to a Stinger expert at Youngblood Kia.