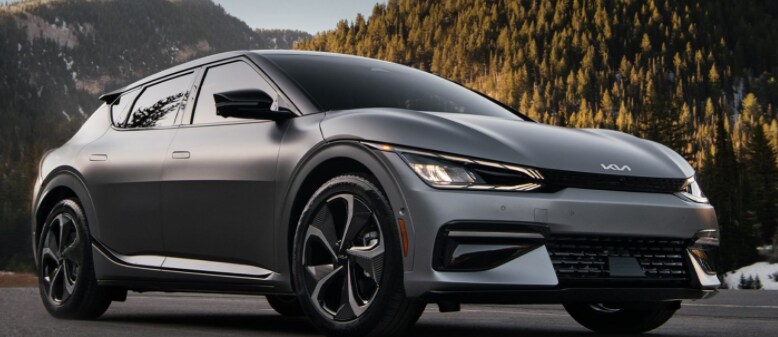 Built from the ground-up on our revolutionary electric platform, the all-new EV6 inspires with a futuristic design, an available Augmented Reality head-up display, the spaciousness of a 5-passenger crossover, and up to 300 miles of targeted range on a single charge. Vehicle shipping is anticipated to start in January of 2022. Here all some of the EV6 highlights from our Kia dealer in Springfield! 
Performance Highlights
The all-new EV6 performs as good as it looks. An all-electric drivetrain means the EV6 is all in. All models feature the instantaneous response of an electric motor, with select trims capable of delivering 320 hp and 446 lb-ft of torque for a 0-60 mph time in 5.2 seconds - quicker than a 335-hp Porsche Cayenne. The EV6 comes standard with RWD and a 5-link rear suspension to deliver responsive and sporty handling. Available AWD models feature dual motors to deliver superior acceleration and all-weather grip.
The EV6 comes ready for both 400v and 800v DC fast charging. The 800v DC fast charge provides up to 210 miles in only 18 minutes. Based on current targets, the EV6 can travel up to 300 miles on a single charge with select trim and powertrain configurations. Its state-of-the-art 77.4 kWh battery is protected by our standard 10 year, 100,000 powertrain warranty. With over 41,400 and growing charging stations available in the US, it is easy to find charging stations along your route - including 400v DC fast chargers and higher. You can easily find charging spots and monitor your vehicle's charging status using the Kia Connect app or from your EV6 12.3-inch touchscreen display. 
Technology Highlights
Available Vehicle to Load ports allow you to use your EV6 as a charger or to power electric devices, such as mobile phones, laptops, tablets, home appliances, electric bikes, camping equipment, and more. With available e-AWD and a towing capacity of up to 2,000 lbs., you can take your power almost anywhere.
Dual 12.3-inch screens provide a stunning, 24 inches of combined curved display for navigation, diagnostic, convenience, entertainment, and immersive vehicle information features. An integrated blue light filter helps reduce eye strain and driver fatigue. The available groundbreaking head-up display (HUD) shows key safety information and route guidance in augmented reality, providing additional info to help keep your eyes focused on the road ahead of you. Connect an Apple Watch to communicate with your EV6 via the Kia Connect app. You can remotely start/stop charging, remotely open/close charge ports, see energy usage and charging status, receive notifications, and more.
Design Highlights
The EV6 front seats use giga steel for thinner seats, which maintain comfort while increasing rear seat knee room. An electric vehicle's design also provides more room through a flatter floor, extra front interior storage, and a front trunk, enabling the EV6 to have interior volume similar to many mid-size SUVs. The EV6 incorporates sustainable design elements throughout its construction, from the use of more than 100 recycled PET bottles for interior parts, 100% LED lighting, and the exclusive use of vegan leather.
2022 Kia EV6 For Sale in Springfield
Want to see more of the EV6? Contact us at our Springfield Kia dealer to schedule a test drive! Experience the excellence of all of the 2022 Kia EV6 for yourself, and learn more about our New Kia Specials today!